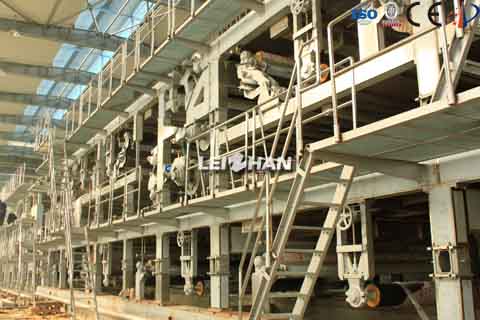 5500mm kraft paper machine is mainly suitable for the production of high-strength kraft paper board with a basis weight of 100 – 300g/㎡ by using wood pulp or waste paper pulp. The finished paper has flat surface, uniform thickness, no wrinkle, cracks and holes, and other paper diseases.
The paper machine has headbox, wire section, press section, drying section, transmission section, foundation part, a calender and a paper winder.
Main Technical Data:
Paper Grade: Kraft Paper
Base Weight: 100 – 300 g/㎡
Production Capacity: 658 T/D
Working Speed: 650 m/min
Design Speed: 800 m/min
Balance Speed: 800 m/min
Trimmed Width: 5500 mm
Reel Width: 5900 mm
Wire Width: 6140 mm
Gauge: 6850 mm
Transmission Way: AC Frequency Fractional Driving
Pulp Consistency: 0.3~0.6%
Compressed Air: 0.7 Mpa
Installed Capacity: 5957.5 kw
Stock Preparation Line:
Pulping: Chain Conveyor, Bale Breaker, Drum Pulper, D Type Hydrapulper and High Concentration Hydrapulper and so on.
Screening: Middle Concentration Pressure Screen, Drum Screen, Vibrating Screen, Inflow Pressure Screen and so on.
If you have any need, please feel free to contact us. Welcome you to come and visit! Welcome to contact us for more details about the machine. Email: flutingpapermachine@gmail.com