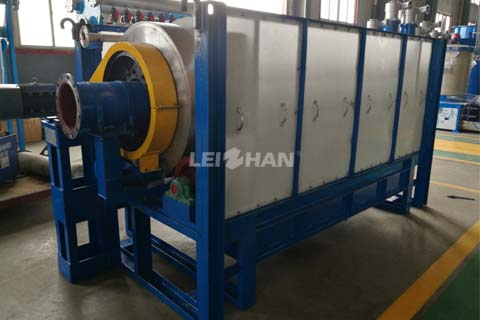 ZST series drum screen is made of high quality material, designed for low operating costs and maintenance, high performance, high production capacity. Due to it's optimized helical blade and water spray system, high purity of impurities and low fiber loss rate can be guaranteed. It's screen drum has different mesh sizes. The push-pull design is helpful to replace the screen plate in the later maintenance stage.
ZST Series Drum Screen is configured for economical & efficient classification, screening and grading system. it is mainly composed of motor, reducer, roller device, frame, sealing cover, feed inlet and discharge outlet etc.
Equipment Benefits:
◉ Adopt rolling conveying principle, small friction coefficient, less wear and tear, screen hole is not easy to block;
◉ The drum support adopts the whole through shaft structure, running smoothly, less vibration and low noise;
◉ The internal drum screen adopt separate design with simple structure and quick and convenient replacement and maintenance;
◉ The roller body adopts effective fully sealed structure, free from dust and pollution;
◉ Safe and reliable operation, gearing-down device, high transmission efficiency, small power, low energy consumption, obvious energy-saving effect;
◉ Different screen material and screen hole size can be used according to customer requirements, high screening efficiency, long service life, low maintenance cost.
We have more details about the ZST Series Drum Screen. Heartily welcome to visit and e-mail us by following way if you have interest in our products:
Email: flutingpapermachine@gmail.com