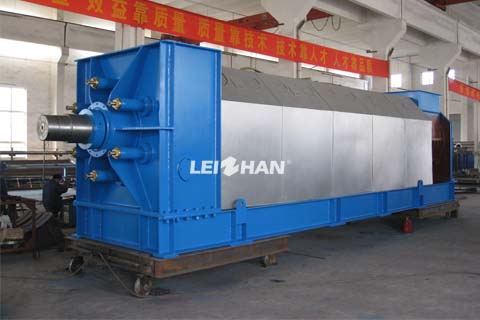 The ZNJ series screw press washer is designed for washing and thickening all kinds of paper pulp. It is mainly consist of screw shaft assembly, screen drum and machine base etc. It has a conical shaft and a decreasing pitch of flights in the screw, which strength the pulp washing and thickening effect. At the discharge end, back-push assembly is automatically controlled to prevent blockage and to achieve the highest dryness. The shaft dewatering zone at the end of the screw can also increase the final consistency of the pulp.
The diameter scope of screw is Φ400-Φ1100, the pulp concentration can be increased from 8% to more than 25%.
Equipment Benefits:
◉ Highest dryness and largest capacity;
◉ Shaft dewatering for higher final dryness;
◉ Fitted with inner dewatering assembly with holes, dewatering of pulp layer is uniformly;
◉ The compression ratio is axially distributed reasonably, thickening effect is good;
◉ Special screw structure in outlet, easy to maintain;
◉ Fully closed working environment, clean and high efficiency.
For more details, please click ZNJ Series Screw Press Washer. We can offer the installation, commissioning and service expertise. Leave your message or contact us by following ways for more corporation:
Email: flutingpapermachine@gmail.com