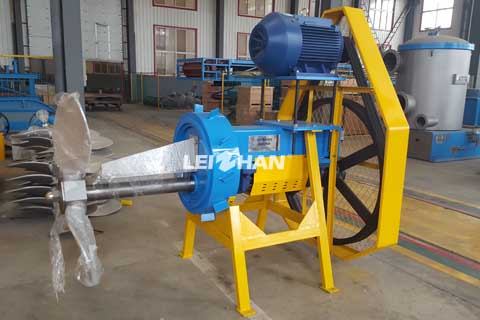 JB Series Agitator is used for stirring all kinds of fluid materials or mixing/storage operations. It is equipped with optimized propeller blades and special design for pulp chest. Due to its adjustable blade angles, JB Series Agitator has highest process flexibility for different slurry and can also be adapted to handle a wide range of motors. The belt drive and universal guard device makes it easy to check and maintain.
Depending on the slurry concentration, the stirring efficiency of JB series agitator is about 20-80% higher than that of turbine agitator. So, it's the ideal equipment that available for pulp and paper applications, such as couch pit, high-consistency pulp, or highly pulp chest.
Equipment Benefits:
⊚ High stirring efficiency at low power consumption;
⊚ Suitable for different shaft sealing;
⊚ Equipped with adjustable and replaceable blades;
⊚ Unique guiding plate that avoids rotation of pulp to increase operational efficiency;
⊚ Adjustable support legs suitable different working surroundings;
⊚ The stuffing box and mechanical seal can be replaced without the draining of the pulp chest.
For more specific data, please click JB Series Agitator. Welcome you to visit and contact us if you need any pulping or screening machine.
Email: flutingpapermachine@gmail.com