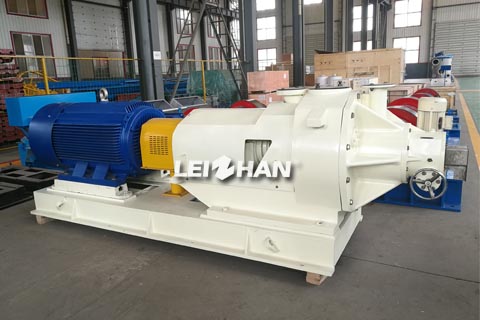 DD Series Double Disc Refiner is a new type of refining equipment designed and manufactured on the basis of many manufacturers in the same industry. It's a horizontal double disc refiner which is fed on both sides of the double refining zone and the pulp is sprayed radially above. Equipped with various serrated refining plate which can be replaced according to the property of raw materials.
Depend on your production capacity, three types of plate can be chosen: Φ550, Φ600, Φ660. DD Series Double Disc Refiner can be used in single or multiple units. It satisfy the demand of our customer. We had sold it for paper mills as far away as Southeast Asia, Egypt and the Middle East.
Equipment Benefits:
Multi-purpose. Can be used in coarse and fine refining process or rerefining of pulp slags and repulping waste paper.
Continuous refining. High production efficiency and low power consumption.
Advanced seal technology. The packing seal method and mechanical seal method are adopted, the seal ability is reliable, and the leakage phenomenon can be directly observed.
Cost-Effective. Compared with similar refining machine, It running smoothly with high efficiency and compact structure. DD Series Double Disc Refiner is convenient for installation, debugging and maintenance as it has improved bearing supporting structure.
For more details about this machine, please click DD Series Double Disc Refiner. Our company also produce a set of pulping equipment. Heartily welcome to contact us if you have interest in our products:
Email: flutingpapermachine@gmail.com