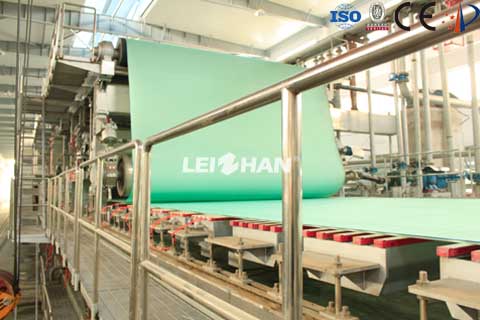 Leizhan can provide a set of equipment from waste paper material to kraft paper product. There are main four processes before the accepts flow into the kraft paper machine. From the pulping to defiberation process, Leizhan can provide you with a best plan or diagram. Except the whole equipment, a series of pre-sales and after-sales services are provided by us. We are determined to guarantee the production of your kraft paper with high quality equipment and service.
Equipment for Pulping Line for you to choose:
Pulping Equipment: Chain Conveyor, Bale Breaker, Drum Pulper, D Type Hydrapulper and High Concentration Hydrapulper and so on.
Screening Equipment: Middle Concentration Pressure Screen, Drum Screen, Vibrating Screen, Inflow Pressure Screen and so on.
Deslagging Equipment: High/Low Density Cleaner, Reject Separator, Light Impurity Separator and Hydrapurger and so on.
Defibrination Equipment: Double Disc Refiner, Fiber Deflaker, Conical Refiner and so on.
Description of Duplex Layer Kraft Paper Machine:
Kraft paper produced by duplex layer kraft paper machine can be used in chemical, machinery and other industries, especially in food packaging industry. The paper trimmed width is 1880-5800mm. Duplex layer kraft paper machine is consist of headbox, wire section, press section, front drying section, oblique surface sizing machine, back drying section, calender section, reel section. For more details about the machine, welcome to contact us by free.
Leizhan will also provide you with a series of pre-sales and after-sales services to ensure your kraft paper production. Welcome to consult us if you have interest in our products:
Email: leizhanpapermachine@gmail.com