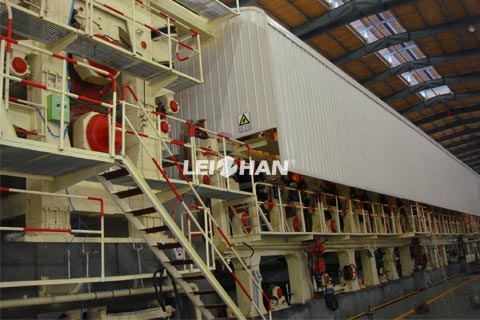 Over 30 years production experience specializing in making all kinds of paper machines and pulp equipment with healthy and rapid development, Leizhan company is considerable large, experienced and professional manufacturer in the field of paper machinery, including complete paper production line, such as machinery for stock preparation of waste paper. Here is the details about 4400-450 Fluting Paper Production Line:
Stock Preparation Line:
D Type Hypdrapulper: Special designed blade in the middle between the cutter plate and the screen plate to prevent the winding of waste materials in OCC.
High Density Cleaner: One of the necessary equipment in paper pulping and screening process. Remove all kinds of heavy impurities in paper pulp, for example, the staples, stones, glasses, etc.
Pressure Screen: Advanced structure, strong and durable, convenient dismounting, low energy consumption, high efficiency;
……
Fluting Paper Machine System:
Main Product: High-strength Corrugated Paper
Basic Weight: 80-130 g/㎡
Paper Machine Width: 4600 mm
Roll Paper Width: 3100 mm
Working Speed: 350 m/min
Designed Speed: 400 m/min
If you have any need, please feel free to contact us. Welcome you to come and visit! Welcome to contact us for more details about the machine. Email: flutingpapermachine@gmail.com