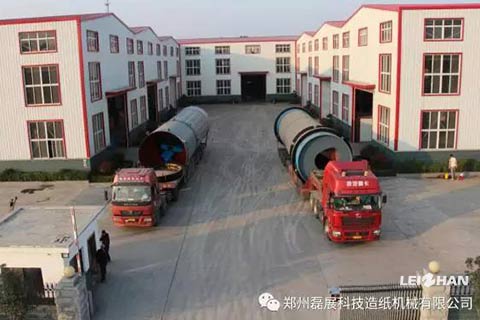 Recently Leizhan signs a wrapping paper production line for Xinrui paper mill in xinjiang. Leizhan will provide a whole set of pulping equipment and technical service. Leizhan has provided M.C.Pressure Screen & Light Impurity Separator for its original paper pulping line. Xinrui's chairman Mr.Qian expressed his satisfaction for these equipment. The energy-saving effects of them promotes this cooperation.
Wrapping Paper Production Line
Customer: Xinrui paper industry
Item: Packaging paper pulping line
Capacity: Two hundred thousand ton each year
Time: September 2017
Wrapping Paper Production Equipment
The equipment includes conveying, pulping, screening and cleaning machine.The specific products are as follows:
Drum Pulper, ZG3500 Chain Conveyor, M.C.Pressure Screen, Low Density Cleaner, approaching system and etc.
Approaching system mainly consists of finished Pulp chest & fan pump, Inflow pressure screen, Vibrating screen, Head-box and etc.
Leizhan provides various kinds of paper and pulp equipment. Welcome to contact us for more details.
Email: leizhanpapermachine@gmail.com