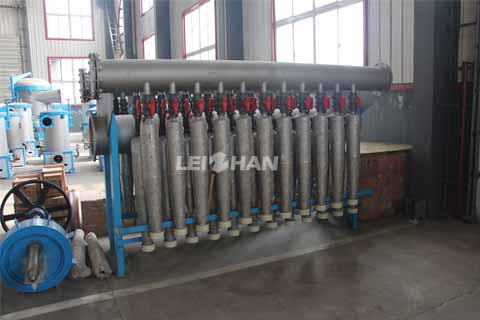 Heavy impurity can be removed by KH Series Low Density Cleaner. For example, gravel, foams, plastic from paper pulp in the paper making process.
Performance characteristics:
●High Discharging Efficiency
For different types of pulp, the impurity discharge diameter of each single cleaner is different to ensure the cleanliness of the slurry. The end section can be equipped with a stock saver to reduce the fiber loss.
●Small Space
The low density cleaner can be assembled and supplied in a complete set. In terms of design, the arrangement is compact, which reduces the equipment footprint and reduces the space for equipment use.
●High Flexibility
The inlet and outlet pipe are respectively equipped with ball valves, which are convenient for adjustment. And it can also clean the blocked cleaner under the starting state, system shutdown is avoided and equipment flexibility is enhanced.
●Good Equipment Stability
The single body of the low density cleaner is made of stainless steel, and Vulnerable place is made of ceramic wear-resistant material, which improves the service life and enhances the reliability.
●Strong Adaptability
Closed and open type impurity discharge way are adopted in the low density cleaner, which meets the different needs of users with different scales.
Leizhan will also provide you with a series of pre-sales and after-sales services to you. Welcome to consult us if you have interest in our products:
Email: flutingpapermachine@gmail.com