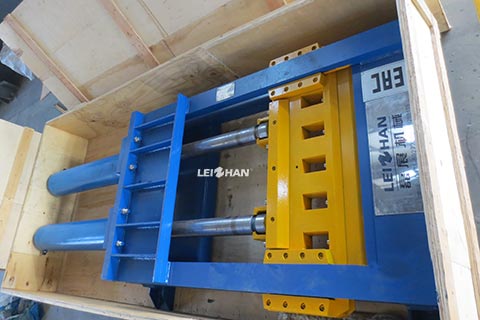 Rope Cutter applies to cut off the rope from Ragger. After Ragger drags out the iron wire, string, plastic, cotton yarn, etc, Rope Cutter cuts off and removes these twisting impurities.
Rope Cutter belongs to continuous pulping system. It is used for roughing and purifying waste paper raw material, removing impurities like iron wires, string, plastic, cotton yarn, etc. The impurities constantly rotates and winds in the Hydrapulper to form a rope, and then impurities are pulled out continuously. Finally the ropes is pulled out from waste paper pulp are cut and carried away in an ideal length.
Recently Leizhan provides a Rope Cutter to a Russia paper mill. We hope our Rope Cutter can benefit our customer soon for their waste paper pulping line.
The paper and pulping equipment manufactured by Zhengzhou Leizhan Technology Paper Machinery Co., Ltd are of superior quality, good performance and high efficient. We can provide you with competitive price. Cooperating with us is your wise choice. If you have any need, please feel free to contact us. Welcome you to come and visit!
Email: leizhanpapermachine@gmail.com
More information is at Rope Cutter Features